Pre-registration Application Form
This is a pre-registration application form which helps us to receive the required information about your child and start the registration process.
Requirements
Students should be 5 years old or above. Also, they should be able to speak Farsi before enrolling in Reading-Writing courses. For the applicants who cannot speak Farsi, we offer Farsi speaking course. You also need a good access to internet and a communication device such as smartphone, tablet or laptop. You should have a printer to print writing worksheets.
Free trial sessions
This option helps you to make a better decision. After filling up this registration form, we will contact you to arrange 3 trial sessions for free. After the trial sessions, if your child enjoys the lessons and you are convinced that our teaching methods are effective, you will inform us of your intention to complete the registration process. Then, we will send a registration form for you to fill. To learn more about our teaching-learning methods, please visit Farsi learning process and online Persian school educational model. It is important to note that each session takes about 27 minutes. Please note that the fees are subject to change. However, it does not affect current students.
Monthly Fee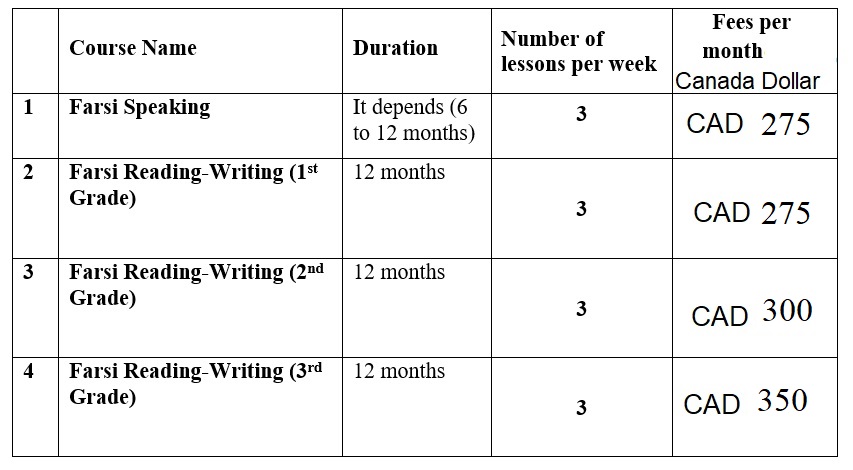 To learn more about the Farsi courses , please visit online Farsi courses page.
Please Note
We believe the official Farsi textbooks which are produced by the Ministry of education of Iran and used in the Iranian schools, are not appropriate for the kids especially those who live outside of Iran. Therefore, Online Persian School has developed specific learning materials for Farsi speaking, Farsi1, Farsi2, and Farsi3 courses. These educational materials are digital, attractive, and free of religious and political contents (Based on the cognitive development theory, the young children are not able to process abstract subjects ).
The maximum number of students per class is 2.
Your information
Please complete the following form. We will call you directly or via WhatsApp to talk about the details and arrange a free trial of 3 sessions. If you did not receive any call from us within three working days after submitting this form, please call +1 519 991 0421 directly or via WhatsApp.
---