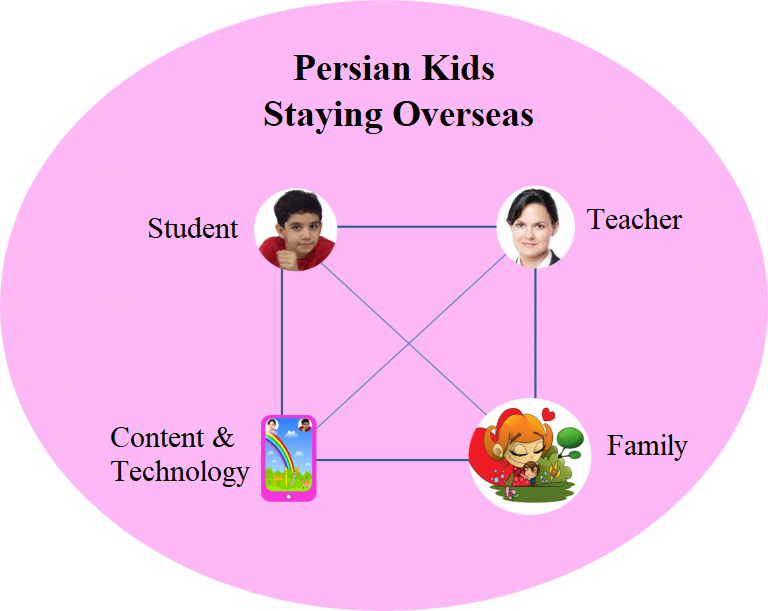 Online Persian School Educational Model includes five elements and their relations. This model is a framework for our online Farsi courses including Farsi speaking and Farsi Reading-writing. The main elements of Online Persian School Model are context, student, teacher, content, technology and family. These elements are described in the following sections briefly.
1. The context of Online Persian School's student
In Online Persian School system, it is assumed that the students are living outside of Iran or other Farsi speaking countries. Also, the students are studying in a local school in the country which they live in and learn other subjects such as mathematics and science there. Therefore, there is no mission for Online Persian School to teach its students these subjects. In fact, our mission is teaching Farsi speaking, reading and writing to the kids. The following assumptions for the Online Persian School students are considered.
1.1 Easy access to the advanced communication technologies
Due to the expansion of high-speed internet and mobile technologies, these technologies and tools are considered as the infrastructure of teaching and learning activities in Online Persian School educational model. The family members and kids can use these technologies for educational aims efficiently.
1.2 Non-Farsi speaking context
In a non-Farsi speaking context, the students' Farsi vocabulary is smaller than students' vocabulary who are living in Iran, even if they usually speak Farsi with their family members. Also, lack of interaction with Persian culture makes Farsi teaching and learning process more challenging for these students. This obstacle has been considered in Online Persian School educational strategies and proper solutions has been developed.
1.3 Limited access to Farsi schools
Unfortunately, Persian families who want their kids to learn Farsi face many challenges. For instance, most of them do not have easy access to a Persian school and transportation takes a lot of time. They also consider the quality of learning materials and teaching methods and try to find a high quality school and professional Farsi teachers.
1.4 Limited Access to Farsi learning materials
Lack of high-quality learning materials to teach Farsi for kids is one of the main challenges facing Farsi teachers. A high-quality Farsi learning material for kids should be contextual, multimedia, attractive, engaging and mobile. They should also be designed based on language learning theories and instructional design principles.
2. Online Persian School students
The current generation of students, which is called z generation, are usually using their smartphones, prefer multimedia materials and game-based learning methods. Therefore, the traditional teaching methods and learning materials are not suitable for them. These characteristics are considered to design teaching and learning strategies, methods and activities in Online Persian School.
A prospective student of Online Persian School should be 6 years old or above. If s/he can speak Farsi, s/he is eligible to register for online Farsi reading and writing course. Otherwise, s/he should enroll for our online Farsi Speaking course prior to the Farsi Reading-writing course.
3. Online Persian School teacher
The role of Online Persian School teacher in a successful course is essential. A first-grade teacher should possess diverse knowledge and skills. However, an Online Persian School teacher who teaches Farsi speaking, reading and writing to the kids should have even more. Because, online teaching is more difficult and complex than face-to-face teaching to the kids. An example of online Farsi teaching to the kids can be found in the Farsi learning process page. An Online Persian School teacher should have the following knowledge, skills and experiences.
Bachelor of primary education
Instructional design
Educational technologies
Emotional intelligence
Communication skills
Team-working
Creativity
Successful experience of classroom teaching for first-grade students
Successful experience of online teaching for first-grade students
4. Online Persian School learning contents
Our learning contents focuses on teaching Farsi speaking, reading, writing and general values such as respecting peace and environment. However, it is free of political and religious issues. To increase the flexibility, attractiveness and effectiveness of our Farsi education, most of the learning contents have been designed based on mobile learning approach, multimedia learning theory and storytelling method . Furthermore, our design team have also tried to add Persian culture elements such as Persian games, music and celebrations to the contents to introduce Persian culture to our students. The design team also tries to improve the quality of teaching methods and learning contents continuously.
5. Family support
Iranian Families usually respect education and support their children as much as they can. This support would be stronger when they want to send their children to a Persian school. We believe that cultural, emotional and technical support from the parents to their children are required to meet the learning goals.